sk

sk
Horn Distribution S.A.

Horn Distribution S.A. is a Polish origin distribution company operating in Poland, Switzerland, Hungary and Lithuania.
For over 24 years Horn Distribution specializes in distribution of home and car audio-video equipment, offering the most mainstream and well-known brands from all of the world. Company delivers the best and modern selling solutions in line with global trends.
Its core business came from passion for great sound quality. Passion shared by the founder of the Company and all members of the Team.
History
The Company began operations in 1991, when the simple hobby of use of a good sound system began to transform into a modern company.
Horn Distribution has developed rapidly in the first half of the nineties, during the spontaneous flowering of entrepreneurship in Poland. The growing confidence of customers and very important foreign partners - Alpine, Denon, Mark Levinson - have set the bar high for the range and quality of Company's actions. Horn Distribution is currently the exclusive distributor of more than 40 internationally recognized brands.
1991 – Horn Distribution S.A has been established
1994 – Opening of first retail store in Warsaw
1999 – Company moved to new, modern facilities with own warehouse
2000 – 2008 – Most extensive company growth period
2002 – Foundation of first own retail store Centrum HiFi
2008 – Opening of daughter company in Switzerland (Horn Distribution CH AG.)
2008 – First and only in Europe, Denon branded stores (Denon Salony Firmowe)
2009 – Opening of daughter company in Hungary (Horn Distribution HU Kft.)
2012 – Opening of 5th retail store – Denon Salon Firmowy in Krakow
2013 – First Marantz branded store opening in Warsaw
2013 – First retail store opening in Budapest, Hungary
2014 – Opening of 3 new retail stores – Denon Salon Firmowy in Katowice and 2 in Warsaw
2015 – New daughter company established in Lithuania (Horn Distribution (LT) UAB)
2015 – First retail store in Vilnius, Lithuania to be opened (October 2015)
Area of activity

Horn Distribution operates outside Polish borders through its subsidiaries - from March 2008 in Switzerland, and since September 2009 in Hungary and newest one - since October 2015 in Lithuania.
Based on years of experience we enter new business areas seeking new opportunities that create added value to our distribution network.
Team

Success or failure of company depends on people. Therefore Company always hires the best staff and creates a good work atmosphere to assure best effects.
Currently Horn Distribution in Poland employs a team of over 80 people. Daughter companies in Switzerland and Hungary employ another dozen. The consistent policy of supporting the channels of distribution, coupled with the prestigious brands held in product portfolio assures continuous growth for years.
Key areas of operations are secured using own team of business professionals - from own warehouse, through central service facility to bookkeeping, all partners are served as best as possible. The company pursues its mission: to remain the best company in the industry, providing high-class home and car audio/video equipment at the same time improving its organization.
Infrastructure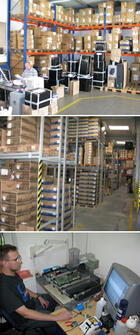 Since 1998 the Company has its own buildings: an office with a warehouse and service facilities.
The new headquarters has allowed the Company for even more dynamic development - increasing portfolio of represented brands and number of cooperating customers. In 2005, as a first company in the industry in Poland, Horn Distribution started to offer the Extended Warranty Service to all end-users. A special platform on-line is being used, which allows worry-free warranty service extension even to 5 years, depending on product line.
Horn Distribution is continuously increasing logistics performance based on modern and customized IT solutions (SAP Business One) promoting the efficient internal procedures. Company's latest actions aim to further improve cooperation with trading partners, using simple and flexible communication platform related to the product lines offered.
With the constant changes and improvements, the Company is ready for the next challenges of modern distribution and development of further areas of the market in Poland and Europe.
The Horn Distribution Team